Shown here at Ipswich Workshops undergoing refurbishment. Designed to travel with the Commissioner's Train, consisting of MSC1471, MSD1460, MSS1465 and MSB1464. This car was constructed with an observation room for the purpose of wining and dining guests and dignitaries. With a sleeping capacity of 6 passengers in 3 1st Class duet compartments, this car has a tare weight of 34.6 tonnes and an overall length of 17600mm over buffers (uncoupled) and 16915mm over body.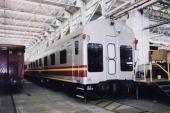 MSS1465 2002-12-16 001
[ PROTOTYPE PHOTOS HOME ]


This site is designed specifically to bring as much information as possible to you about various rollingstock and locomotives of the Queensland Railways. If you have any particular loco or wagon you require information for, please e-mail us, and we will endeavour to find the information and post it on this site as quickly as possible. If you have any information or photographs you wish to contribute, please e-mail it through to us and we will post it on the site with full credits given. We will endeavour to research all information thoroughly, to make certain there are no mistakes. Wuiske Models does not accept any responsibility for mistakes or omissions on this site, and publishes all information and photographs on the belief it is true and lawful.
Please note that the photos included in these pages have been reproduced at full size to allow the most clarity for modelling purposes. They may take a little while to open.